• Perry Wakeman • AFFINEUROFTHEYEAR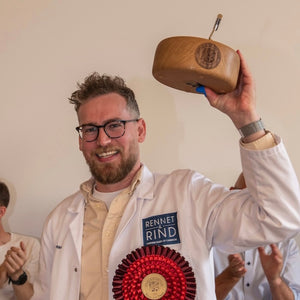 Perry James Wakeman of Rennet & Rind Wins Prestigious "Affineur of the Year" Title Second Year Running Rennet & Rind, the renowned cheese affineur, is ecstatic to announce Perry James Wakeman's repeat triumph in claiming the prestigious "Affineur of the Year" title for a second consecutive year. This notable achievement in the world of cheese affinage was unveiled at the ceremony hosted by the Academy of Cheese & Quicke's at the Chinese Exchange, London on 14th June 2023. Renowned for his exceptional skill in cheese affinage, Wakeman excelled in the challenge that tested the intricate craft of maturing cheese to...
---
• Perry Wakeman • AFFINEUROFTHEYEAR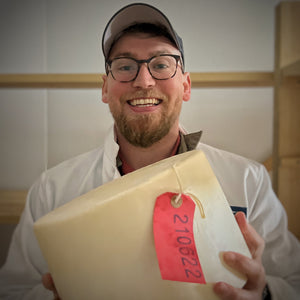 Affineur of the Year update! More aptly, our Priscilla update! We are extremely pleased with the explosion of cheddar based colonies forming on the rind. We haven't had to re-lard which is good news as this can sometimes stifle growth and also make the cheese a bit less predictable. We are being more delicate with our brushing, more of a massage than a brush. I think this is the main contributor to the awesome patchwork style of microflora which is now established. Weight is steady, but we've pulled back on the temperature due to the delay in the 'Affineur of...
---
• Perry Wakeman • AFFINEUROFTHEYEAR
About a month ago, I received a very special cheese. A three-month-old Quickes Cheese! Why was is it special you may ask, as it's part of an initiative put on by our friends over at the @cheese_academy & @quickescheese to establish the Affineur of the Year! To be honest, it is a competition but it will be quite fascinating the direction that each maturer takes. So what's my maturing plan, I think I'll be pushing some of the temperature and humidity norms of maturing cheddar cheese, just to see what happens. Looking at the cheesy stats, PH, water content and weight, I think this cheese...