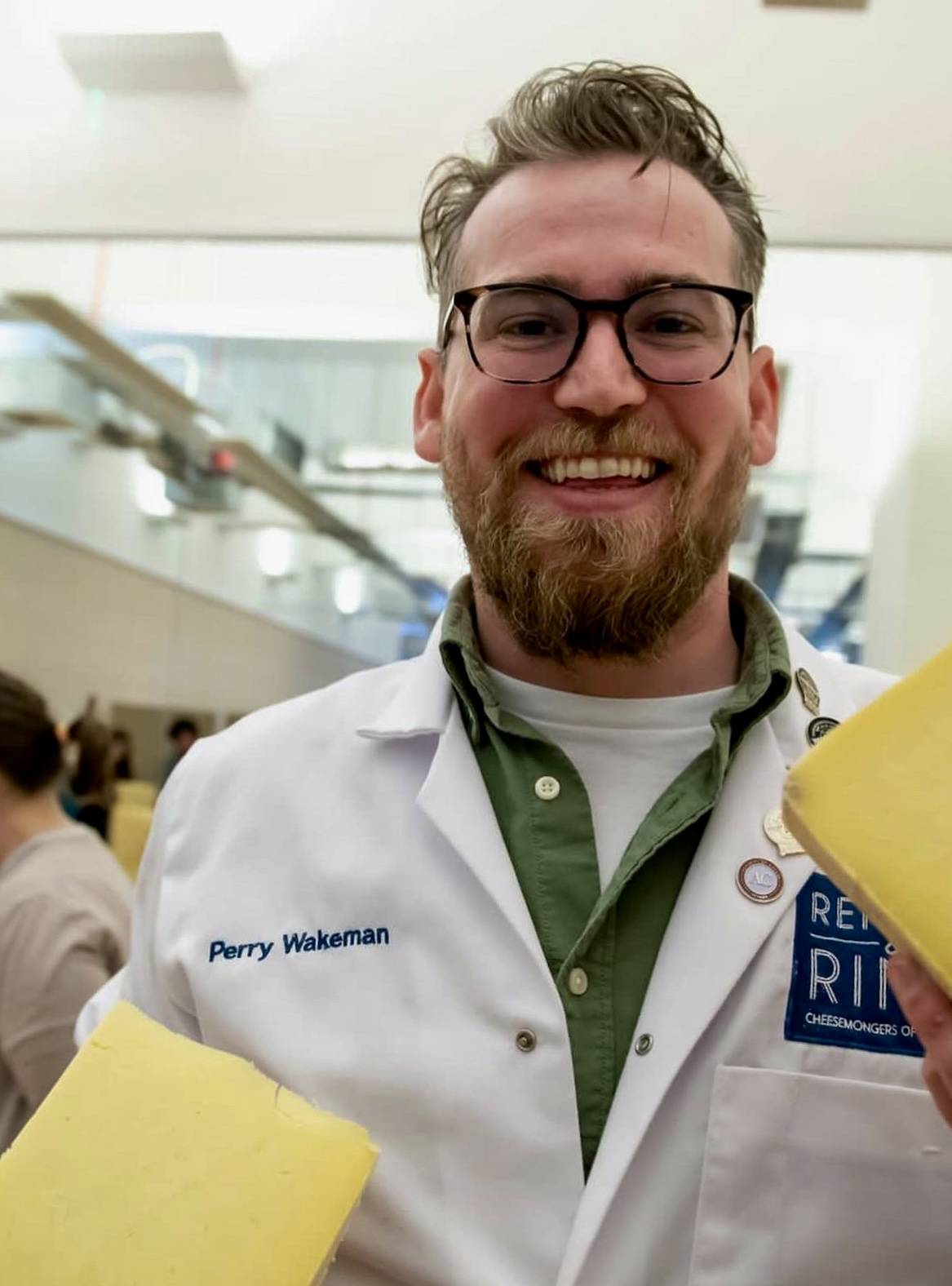 Director, Affineur of the Year, Cheese Judge
and Chief of Cheese at Rennet & Rind
Perry Wakeman is a highly accomplished cheese expert and the Chief of Cheese at Rennet & Rind. Perry's expertise in cheese-making is recognised on a global level, and he's a vehement advocate for the British artisan cheese industry. His expertise was honed through both refinement, experimentation and study with some of the world's seasoned affineurs.
In 2022, his dedication to the craft was awarded the distinguished title of 'Affineur of the Year' for the first two consecutive years of the competition being held. In the first year, Perry and his fellow competitors were tasked to mature a Quickes Cheddar for a year. Perry's cheese (titled 'Priscilla') took the 'Supreme Champion' and the People's Choice award. In the second year, the competitors were tasked with maturing a truckle of Quickes, Baron Bigod and Cropwell Bishop Stilton. Perry matured a Baron Bigod into a style of Caerphilly to fully embrace the quality of Fen Farm Montbeliard Milk. It received the 'Champion' title in Soft Cheese class and then was awarded the Supreme Champion. Altogether, this made Perry Britain's first and second 'Affineur of the Year' winner, marking a significant milestone for a British cheese connoisseur.
In the realm of cheese judging, Perry's nuanced palate and extensive knowledge have made him a respected figure at the World Cheese Awards. He judged at the World Cheese Awards in Bergen, Norway in 2018, and has since been a captain judge every year since.
As a Director and Chief of Cheese at Rennet & Rind, Perry casts a wide influence over the company. He bridges the gap between British cheesemakers and cheese lovers, carefully selecting and nurturing cheeses that tell a story of tradition and excellence. His stewardship of our maturing room is a blend of art and science, ensuring that each cheese reaches its full potential.
2018 - World Cheese Awards Judge Bergen, Norway
2019 - World Cheese Awards Captain Judge Bergamo, Italy
2021 - Judge at The Virtual Cheese Awards
2021 - Judge at The Melton Mowbray Artisan Cheese Award - Selected Ashcombe which was crowned Supreme Champion
2021 - Captain Judge at World Cheese Award Oviedo, Asturias
2022 - Judge at The Melton Mowbray Artisan Cheese Award
2022 - Captain Judge at World Cheese Award Wales
2022 - Crowned the UK's First Affineur of the Year
2022 - Judge at The Virtual Cheese Awards
2023 - Judge at The Melton Mowbray Artisan Cheese Award
2023 - Judge at The Virtual Cheese Awards
2023 - Winner and Supreme Champion at Affineur of the Year
2023 - Captain Judge at World Cheese Awards Trondheim, Norway