As an affineur, I'm always on the lookout for new ways to enhance the flavour and quality of cheese. So, when I received a call from my friends at Curlew Dairy about a maturing project they were putting on, I was more than happy to oblige.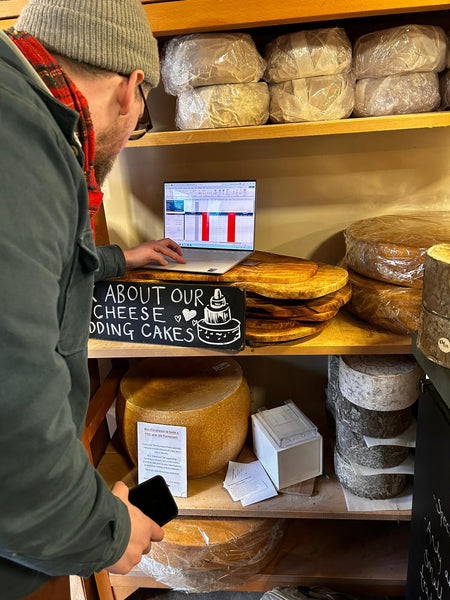 The Yorkshire farmhouse was sending out eight fresh-out-of-the-press wheels of Old Roan Wensleydale to different cheesemakers in a bid to discover any maturation methods that could be used to benefit the cheese. There was a rather stubborn bitter note that they were keen to figure out. If any advantages were found, they could influence any future decisions when cheesemakers Sam and Ben looked at possible expansions. Maturation plans were drawn up before arrival and put into place.
Three months later, off I trekked to rather stunning Yorkshire on a snowy day, stopping for a coffee with the Spences, seeing their make room, then over to the maturation rooms to taste some cheeses, then a short stop for a gigantic sausage roll (thanks Ben!) and over to best hosts Andy and Cathy at The Courtyard Dairy.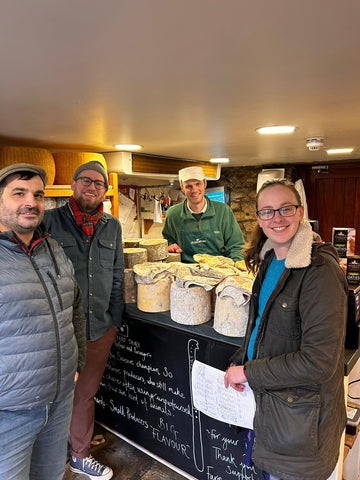 A fortunate courier issue landed me two cheeses instead of the agreed one, allowing me to participate in their experiment with two different styles. The results were terrific; once again, all cheeses displayed the significant role an affineur can play in the cheese-making process.
(Temp, RH, Turning, Brushing Cycles and Comment)
The goal of this maturing project was to eliminate the bitterness of the cheese. I used the following selective pressures: temperature of 10.5°C, humidity between 88% and 92%, turning twice a week (moving to once a week), and brushing once a week (when required). However, I found that brushing was reduced and changed to smear and turning was reduced to once a week to create a better biofilm.
The outcome was a tremendously zingy cheese with great texture and length. We were thrilled to eliminate the bitter note successfully.
(Temp, RH, Turning, Brushing Cycles and Comment)
The goal of this maturing project was to create an intriguing cheese. I used the selective pressures of the temperature of 13.5°C, humidity at 80%, turning twice a week (moving to once a week), and no brushing (only tidying).
To our surprise, the outcome was crystals! The cheese had low bitterness, a slightly strange appearance, and a more pronounced peppery spice note.
That's my cheeses reviewed. Here's a brief overview of the others!
Other Old Roan Variations
Mario's cheese had a more pronounced blue-grey mould, and the bitter notes were more agreeable to the edge of the mushroom if you will. I rather enjoyed Mario's cheese, but don't let him know that!
Kirkham's store took on those Lancashire-like characteristics with acid/butter notes. In my opinion, the cheese didn't work. It was like a Kirkham's dressed in Old Roan clothing - the two profiles pull against one another.
Hafod's cheese aroma was incredible. You could have blindfolded me, and I would have known this cheese from the smell alone. The earthiness kept kicking up for me, and I had a similar vibe to Kirkham's regarding the result. Old Roan and Hafod hybrid didn't play well together.
Stonebeck's cheese broke down well, and it was also heavier, which was interesting for Ben and Sam when working on the financial element of their cheese-making business. The bitterness was far more to Stonebeck style which was pleasant.
After a healthy and hearty cheese maturing discussion, we decided on three experiments for Ben and Sam to embark on to tackle the bitterness:
Airflow: Although my humidity was high, the cheese was separated from other cheeses in a row, so although the humidity was high, perhaps the airflow was drier on the rind.
Blue/Green Mould: There's a specific mould that I was combating as I believed it could be the source of the bitterness; potentially, smudging (yes, literally pressing your thumb on it) could allow other moulds to out-compete it.
Brushing: I did this occasionally, and we didn't have a prominence of bitterness. So, further experiments would need to be conducted to assess the impact.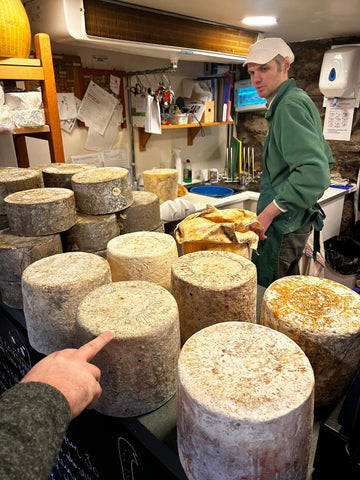 Thanks for reading and I hope you enjoyed this experiment... learned something on the way, or at the very least, it piqued your interest in the art of maturing cheese! If you would like to buy Old Roan for yourself, you can do so on our online store.