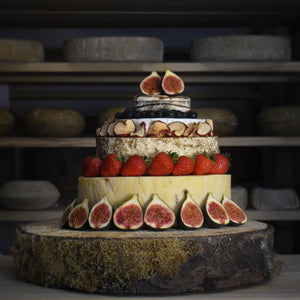 Darwin Cheese Tower

Regular price
£210.00
Unit price
per
Top tier
Rollright 4 x 260gm 
Chedworth| Pasteurised | Cow | Washed
David Jowett makes Rollright at Manor Farm in Gloucestershire. David uses single herd, organic cow's milk. Rollright is a washed rind soft cheese banded in spruce bark. It has a thin, orangey-red rind and a smooth buttery interior, reminiscent of the clover pastures that the herd graze on. A strong flavour of Butter, think of your first slice of buttered toast in the morning. Salty with subtle nutty & Smokey bacon notes
Second tier
Waterloo 750gm
Riseley Berkshire| unpasteurised | semi-soft | cow's milk
Made by Anne and Andy Wigmore at Village Maid Cheese, Waterloo is a semi-soft cheese made from unpasteurised Guernsey cow's milk with a vegetarian rennet. Waterloo has a rich creamy flavour emanating from its naturally golden centre. It is a washed curd cheese. Soft, supple, and smooth, it is full bodied in flavour and a rich yellow colour.
Third tier
Young Buck 2kg
Ireland | Unpasteurised | Cow | Blue
A robust and rounder flavour than Stilton, Young Buck possesses a high level of minerality and a noticeable degree of good salting. The rind is quite gnarly contrasting the delectable creamy interior, resulting in its delightful mouthfeel. The cheese melts away quickly with the full flavour continues to endure long after.
Bottom tier
Quickes Cheddar 4kg
Devon| Pasteurised | Cow | Hard
Quickes is handmade using traditional methods before being bound in cloth and matured for nine months in Devon, and then personally refined in our maturation rooms for a further four months by our Head Affineur, Perry. He aims to increase the intensity of acidity and savoury notes, as well as increasing the presence of crunchy tyrosine crystals.
These items are pre order only.
We will need 2 weeks notice to ensure your cheese stack is ready for your special occasion. 

Decoration is for image purposes only they are not included in the sale of the cheese Tower
---
Share this Product